Contact Info
IRD - INRAE - 361, rue Jean-François Breton - BP 5095 - 34196 Montpellier cedex 5
Socio-Hydro - Dynamiques Socio-Hydrologiques des territoires de l'eau
L'équipe G-EAU et ses partenaires travaillent dans la région de Kairouan (Tunisie centrale) depuis près de deux décennies. Nous avons pensé utile d'illustrer une partie de nos travaux d'une autre manière que les publications scientifiques. C'est de cette idée qu'est né notre film sur le Merguellil, avec autant d'enthousiasme que d'inexpérience cinématographique.La version proposée est encore provisoire (le montage n'est pas encore complètement achevé) et elle est en format réduit (854*480) alors que la version finale sera en 1920*1080) :  https://www.youtube.com/watch?v=NjYQdIgzeXM      

The G-EAU team and its partners have been working in the region of Kairouan (central Tunisia) for nearly two decades. We considered useful to illustrate some of our results in a different way than scientific publications. Our film about the Merguellil watershed started from this idea, with enthousiasm and film inexperience.The proposed version is still temporary (editing is not yet complete) and is reduced in size (854 * 480 while the final version will be 1920 * 1080) : https://www.youtube.com/watch?v=NjYQdIgzeXM
THEMES DE RECHERCHE
Identification et quantification des processus physiques actuels redistribuant l'eau entre surface et aquifères, avec un intérêt particulier pour leur très grande variabilité dans le temps et l'espace (avec une implication personnelle allant de l'instrumentation in situ à la modélisation physique distribuée).

Reconstitution des dynamiques anciennes à partir d'informations hétérogènes (hydrologiques, historiques, environnementales) et de leurs importances respectives au fil du temps.

Etude des évolutions hydrologiques induites par le changement global, de la décennie au millénaire, par croisement de différentes approches, principalement hydrodynamiques et géochimiques.

Confrontation entre les ressources en eau et leurs usages, en prenant en compte les interactions croisées entre environnement et société.
 ACTIVITES ACTUELLES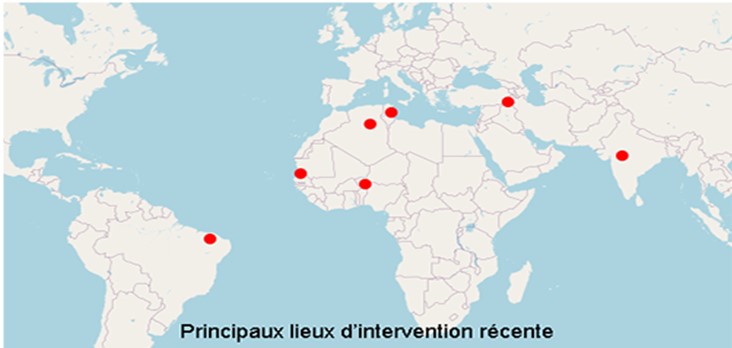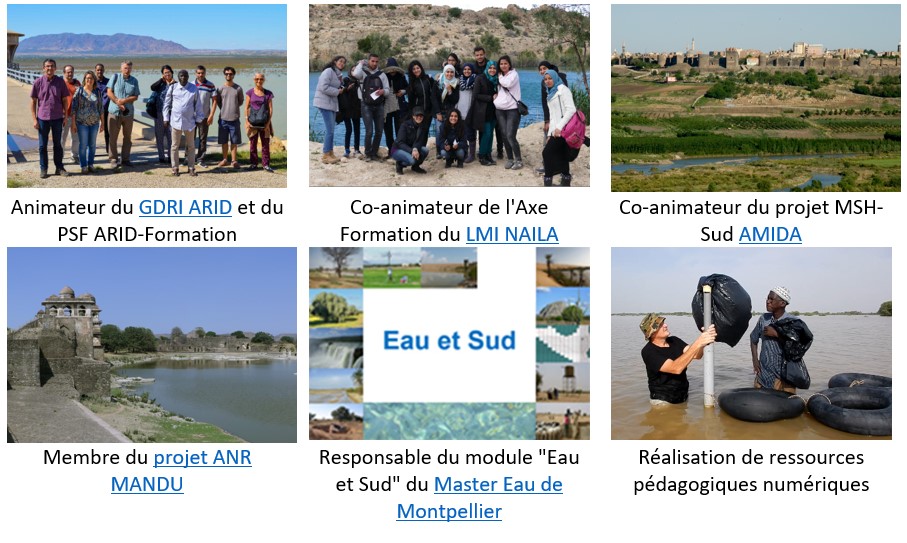 ENCADREMENTS DE DOCTORAT
Thèses récemment soutenues

:
- Amal SEBAI, Étude des processus hydrologiques de la sebkha Kelbia en Tunisie centrale. Caractérisation des formes d'évolution et des trajectoires d'adaptation aux changements globaux (mars 2021, co-tutelle Montpellier SupAgro et INAT Tunis)
- Salifou BACHIR, Changement global et hausse des ressources en eau souterraine dans le bassin des Iullemmeden (sud-ouest Niger) : relations mares - nappe et nouveaux usages associes (février 2021, Université de Niamey)
Fajr FRADI,  Évolution des usages de l'eau dans un contexte de sécheresse : Disponibilité de l'eau du point de vue hydrologique et social dans le nord-est du Brésil (co-tutelle Montpellier SupAgro-Université Fédérale du Ceara)
 PUBLICATIONS LES PLUS CITEES
Leduc C., Favreau G., Schroeter P., 2001. Long-term rise of a Sahelian water-table: the Continental Terminal in south-west Niger. J. Hydrol. 243, 43-54
Favreau G., Cappelaere B., Massuel S., Leblanc M., Boucher M., Boulain N., Leduc C., 2009. Land clearing, climate variability and water resources increase in semiarid southwest Niger, Africa: a review. Water Resources Res. 45, W00A16, doi:10.1029/2007WR006785.
Cudennec C., Leduc C., Koutsoyiannis. D., 2007. Dryland hydrology in Mediterranean regions-a review. Hydrol. Sci. J. 52(6): 1077-1087.
Le Gal La Salle C., Marlin C., Leduc C., Taupin J.D., Massault M., Favreau G., 2001. Renewal rate estimation of groundwater based on radioactive tracers (3H,14C) in an unconfined aquifer in a semi-arid area, Iullemeden basin, Niger. J. Hydrol. 254(1-4): 145-156.

Desconnets J.C., Taupin J.D., Lebel T., Leduc C., 1997. Hydrology of the Hapex-Sahel central super-site: surface water drainage and aquifer recharge through the pool systems. J. Hydrol. 188-189(1-4): 155-178

Leduc C., Bromley J., Schroeter P., 1997. Water table fluctuation and recharge in semi-arid climate: some results of the Hapex-Sahel hydrodynamic survey (Niger). J. Hydrol. 188-189(1-4): 123-138

Leblanc M., Favreau G., Maley J., Nazoumou Y., Leduc C., Stagnitti F., van Oevelen P.J., Delclaux F., Lemoalle J., 2006. Reconstruction of Megalake Chad using Shuttle Radar Topographic Mission data. Palaeogeography, Palaeoclimatology, Palaeoecology 239(1-2): 16-27
FORMATION
Hydrogéologue
1977 : licence géologie (Université de Lille)
1978 : licence archéologie (Université de Lille)
1985 : doctorat sciences de l'eau et aménagement (Université de Montpellier)
2003 : HDR (Université de Montpellier) "Dynamiques hydrologiques en milieu semi-aride"
PARCOURS PROFESSIONNEL
1992-2022 : chercheur ORSTOM/IRD (Montpellier, Tunis, Niamey)
1990-1991 : PNUD Niger1985-1990 : ingénieur CEMAGREF (Lyon)
1979-1980 : géologue LBTP Libreville1977-1979 : enseignant sciences naturelles Lille