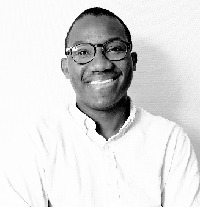 Contact Info
PRECOS - Pratiques, REprésentations sociales et COmportementS au sein des socio-hydrosystèmes
Equipe Principale:
PRECOS - Pratiques, REprésentations sociales et COmportementS au sein des socio-hydrosystèmes.
Biographie:
Economiste

DOMAINES DE COMPETENCES:
• Economie
• Economy

RESUME:
Economiste au BRGM au sein de l'Unité Nouvelles Ressources en Eau et Economie (NRE) et de l'UMR G-Eau (Montpellier), Rahim Ouedraogo conduit des travaux de recherche dans le domaine de l'eau. Ses travaux portent plus spécifiquement sur l'analyse des scénarios et des trade-offs au sein du nexus eau, alimentation, énergie et environnement. Ses travaux de thèse ont porté sur l'analyse des déterminants économiques et psychosociologiques de la décision d'adoption d'innovations par les agriculteurs en milieu sahélien.
Ses recherches visent à appuyer les politiques publiques. Il mobilise et analyse des données issues d'enquêtes terrain. Il s'intéresse particulièrement à la caractérisation de la représentation sociale des usagers de l'eau, aux scénarios de prospective, ainsi qu'à l'économie expérimentale.
Rahim Ouedraogo is an economist at BRGM in the New Water Resources and Economics Unit (NRE) and the G-Eau joint research unit (Montpellier). His research focuses more specifically on the analysis of scenarios and trade-offs within the water, food, energy and environment nexus. His thesis work focused on the analysis of economic and psychosocial factors in famers' decision to adopt innovations in the Sahel.
His research aims to support public policies. He mobilizes and analyzes data from field surveys. He is particularly interested in the characterization of the social representation of water users, prospective scenarios and experimental economics.

FORMATION:
• Doctorat en Sciences Economiques, Montpellier SupAgro, EDEG, 2021
• Master en Sciences Economiques et Gestion, Montpellier SupAgro, 2018 (Economie du Développement Agricole, de l'Environnement et Alimentation)

PRINCIPALES COMMUNICATIONS:
• Soutenance de thèse : Analyse des déterminants socioéconomiques et psychosociaux de la décision d'adoption d'innovations agricoles en zone Sahélienne (https://www.youtube.com/watch?v=HcVehr1gzwY)
• Annual Conference of the European Association of Environmental and Resource Economists (EAERE), Berlin (23 - 25 juin 2021)
When psychosocial factors hinder the adoption of a profitable innovation in rural Sahel: an econometric analysis
• Société Française d'Economie Rurale (SFER), Clermont-Ferrand (7 - 8 avril 2021)
Une analyse économétrique de la décision d'adoption des agriculteurs au Burkina Faso
• Africa-2020 – Centre international UNESCO sur l'eau, Montpellier (23 - 24 mars 2021)
L'eau pour nourrir l'Afrique: vivre et produire face à la variabilité pluviométrique
• Applied Environmental Economics Conference, UK Network for Environmental Economists, London (13 mars 2020)
What are the social representations of farmers and institutions in Burkina Faso?
• Société Française d'Economie Rurale (SFER), Bordeaux (12 – 13 décembre 2019)
Farmers' preferences and perceptions in the adoption of innovations in Sahel
• Conseil scientifique du dP-ISA (dispositif en Partenariat - Information pour la sécurité alimentaire), Ouagadougou, Burkina Faso (26 novembre 2019)
Innovations hydroagricoles : déterminants de l'adoption et impact sur la sécurité alimentaire au Burkina Faso
Temp ATER-PD : Personnel Temporaire – ATER – Post-Doc