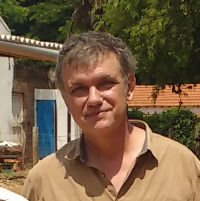 Contact Info
INRAE - 361, rue JF Breton - BP 5095 - 34196 Montpellier cedex 5
OPTIMISTE - Optimisation du Pilotage et des Technologies d'Irrigation : Minimisation des Intrants, Transferts Environnementaux
DOMAINES DE COMPETENCE
Hydrologie / Hydrology

Agronomie / Agronomy
RESUME
Mes recherches portent sur la compréhension et la modélisation des interactions entre le climat, les forçages anthropiques, en particulier l'agriculture, et les ressources en eau, à l'échelle du bassin versant. J'étudie comment des approches multidisciplinaires, couvrant l'hydrologie, l'agronomie, la géochimie, la télédétection et les sciences sociales, peuvent aider à concevoir une meilleure gestion des cycles de l'eau et des nutriments dans les agro-écosystèmes. Mon travail s'appuie principalement sur des observations à long terme réalisées au sein d'observatoires de zones critiques en France (
AgrHys
) et en Inde (
M-TROPICS
). Je suis co-responsable de la Cellule Franco Indienne de Recherche en Sciences de l'Eau (CEFIRSE) basée à l'Indian Institute of Science, Bengaluru, Inde (
http://cefirse.ird.fr/
).
SUMMARY
My research interest is to understand and model the interactions between climate, anthropogenic forcings, especially agriculture, and water resources, at the catchment scale. I explore how multidisciplinary approaches, spanning Hydrology, Agronomy, Geochemistry, remote sensing and Social Sciences can help conceiving better management of water and nutrient cycles in agro-ecosystems. My work relies primarily on long term observations carried out within Critical Zone Observatories in France (
AgrHys
) and in India (
M-TROPICS
). I am co-director of the Indo-French Cell for Water Science (IFCWS) based at the Indian Institute of Science, Bengaluru, India (
http://cefirse.ird.fr/
)
FORMATION
1992: Thèse de Doctorat : INRA / Université Montpellier II.  Formation doctorale "Bases de la production végétale" option "Science du sol".
ENCADREMENT DE THESES (co-encadrant)
Buvaneshwari Sriramulu 2018 Impact of agricultural systems on the spatial heterogeneity of groundwater quality in a semi- arid tropical catchment: Characterisation and Modelling. IISc (M Sekhar)

Chitra-Tarak R 2016 Eco-Hydrology of a Seasonally Dry Tropical Forest: Tree Growth, Rooting Strategies and Drought-Vulnerability. IISc (R Sukumar)

Parathe Harshad 2016 Field investigations and modeling of flow in vadose zone in a forested watershed (MS Mohan Kumar)

Robert Marion 2016 Modeling adaptive decision-making of farmer : an integrated economic and management model, with an application to smallholders in India. (JE Bergez, A Thomas)

Sreelash K 2014 Estimation of root zone soil hydraulic properties by inversion of STICS crop model using ground or microwave remote sensing observations- (M Sekhar)

Moreau Pierre 2012 Modélisation intégrée des systèmes agricoles et de la dynamique de l'azote dans le bassin versant : de la conception du modèle au test de scénarios (Patrick Durand)

Varma RR Murari 2010 Water balance studies in a small experimental forested watershed, South India. PhD IISc Bangalore, India (Mohan Kumar MS)

Rouxel Mathieu 2010 Etude des mécanismes hydrologiques du transport de solutés dans les aquifères superficiels des bassins versants sur socle. Thèse de doctorat, Agrocampus Ouest, ED SDLM Rennes. (Jérôme Molénat)

Martin C 2003 Mécanismes hydrologiques et hydrochimiques impliqués dans les variations saisonnière des teneurs en nitrate dans les bassins versants agricoles : Approche expérimentale et Modélisation. Thèse de doctorat, Géosciences, Université Rennes. (Luc Aquilina, C Gascuel)

Beaujouan Véronique 2001 Modélisation des transferts d'eau et d'azote dans les sols et les nappes. Développement d'un modèle conceptuel distribué. Applications à de petits bassins versants agricoles. Thèse de Doctorat, Ecole Nationale Supérieure d'Agriculture, Rennes. 210 p (P Aurousseau, P Durand)

Reydellet Itto 1997 Effet de la rhizosphère sur la minéralisation brute de l'azote dans un sol ferrugineux tropical (Burkina Faso). Thèse de Doctorat, Institut National Polytechnique de Lorraine. Ecole Nationale Supérieure Agronomique et des Industries Alimentaires. Spécialité Sciences Agronomiques. Nancy. 193p +Annexes (P. Siband)
ITA-IATOS-EPIC : ITA – IATOS – Personnels EPIC