The adoption of innovations by farmers is a relatively old research topic but remains relevant, especially in Africa. African farmers adopt relatively few of the innovations proposed by research. Economists have focused their attention mainly on the influence of household characteristics such as household head age, household size or access to production factors. Many suspect that so-called "psychosocial factors" such as preferences and perceptions strongly influence the choices of African producers.
A recent case seems to confirm these impressions. In recent years, Burkina Faso's agricultural research has proposed an innovation the complementary irrigation from small reservoirs. The idea is to irrigate the crops during the dry sequences of the rainy season. However, very few farmers water their crops during the rainy season. The reasons given are generally social, psychological or even religious. To help the implementation of this innovation, the government proposed a small individual grant for the excavation of several thousand reservoirs. The adoption was quite significant.
In this thesis, the phd student will attempt to determine the importance of preferences and perceptions in the adoption of this innovation. For this purpose, he will need to answer three key questions. 1) Why did some producers dig reservoirs when the proposed economic incentive seemed modest? 2) What are the factors that explain the use of the reservoirs once dug? 3) What was the economic and food impact of this adoption?
First, the economical and sociological theories proposed to explain the adoption of innovations are mobilized. Then a qualitative survey will be carried out among groups of farmers. Theories and qualitative surveys will be used as a basis for the construction of a conceptual model adapted to the context studied. A quantitative survey of a sample of adopters and a control sample will provide the parameters of the model. Econometric analyses will be conducted on this sample to identify the factors that explain the adoption of the innovation.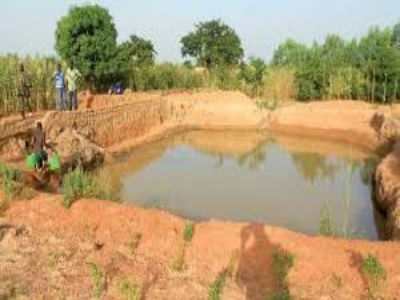 © Bruno BARBIER - Water storage reservoir for complementary irrigation in Burkina Faso