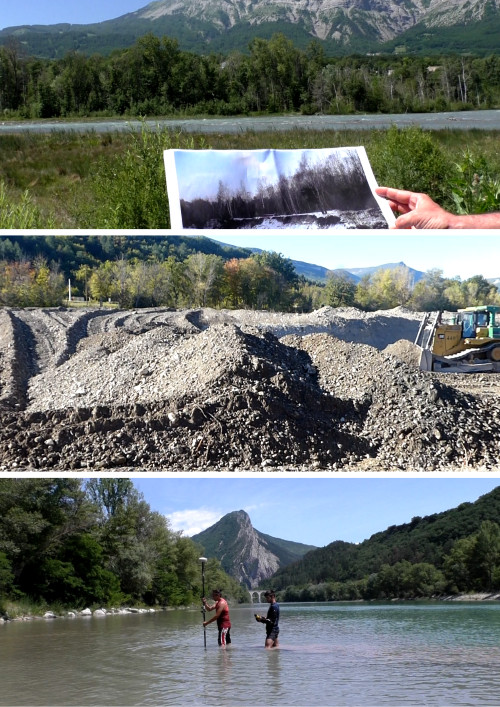 © Photos : Marie Lusson
Cut off by dikes and weirs, polluted by industrial, urban, and agricultural discharges, disassembled for their water or gravel, 42% of French rivers are in poor ecological and morphological condition. The European Water Framework Directive of 2000 aims to reclaim aquatic environments. To this end, the Water Agencies encourage river restoration operations. However, restoration engineering is a non-stabilized practice leading to many controversies. These raise technical, social, and political issues.
To understand I) how restoration projects are made and II) how restoration projects are evaluated once completed, the thesis provides a socio-historical account of four morphological restoration projects conducted in the Rhone watershed that follow four trajectories and take four distinct forms: restoration-patching, restoration-revitalization, withdrawal-restoration, and restoration-exhibit.
Each chapter analyses the situation of a river and the singular management modality implemented in it, revealing distinct biotic, historical, and political states at various stages of progress. By shedding light on morphological projects from changing angles, each chapter draws a more detailed picture of restoration. They also reflect the compositional and diplomatic work undertaken by professionals in the field, forced to bring together human and more-than-human interests and demands.
Keywords: sociology of science, controversies, restoration, river, hydromorphology