The impact of global changes (climate, human actions) on the quantity and quality of water resources in the Lake Guiers basin is a major concern for the Senegalese state authorities. Over the last 10 years, the lake has been under increasing pressure with a continuous extension of irrigated areas, an increase in the demand for drinking water, to which is added an unfavourable trend in water quality marked by pollutants such as pesticides, antibiotic residues, wastewater discharges in addition to turbidity, proliferation of phytoplanktonic biomass leading to the death of fish, and the flow and re-suspension of suspended matter. However, these already visible constraints around the lake raise the issue of the hydrological and hydrochemical balance of the lake waters, as well as its management and governance.
The objective of this thesis is to develop a global/integrated approach to represent the impact of climatic and anthropic evolutions on the quantity and quality of the water resources of Lake Guiers.
This approach is intended to provide a decision-making framework for anticipating treatment, monitoring and water protection measures, as well as resource management and optimisation measures. It must also consider the interdependent and complex relationships between water and society (socio-hydrosystems) in order to better understand the evolution of practices (irrigated agriculture, market gardening, wastewater, drinking water) and their influences on Lake Guiers.
To do this, this thesis will first evaluate the current and future water balance of Lake Guiers in a context of climatic and anthropic change. To do this, a hydrological model will be developed in order to define the current pressures on the Lake Guiers basin, to quantify the availability and to evaluate the evolution of the capacity to satisfy water demands under the constraint of climatic scenarios and anthropogenic factors. Then to characterize and quantify the pollutant load and finally to approach the governance of water to deduce the social benefits and the sustainable management of the ecosystems of the Guiers Lake basin.
Key words: Lac de Guiers, Senegal, climate change, hydrological modelling, water balance, water governance.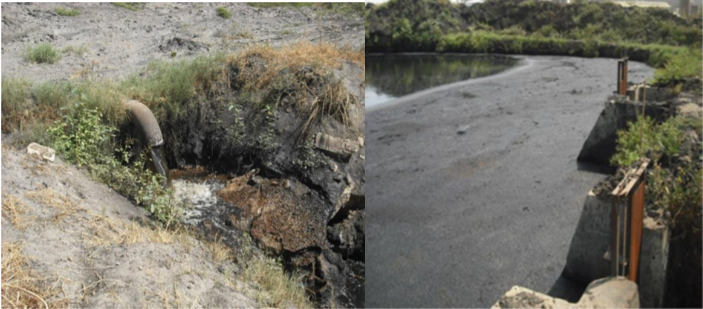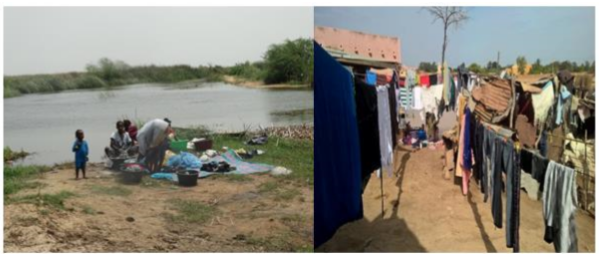 © Photo: Sewage disposal into Lake Guiers (photo by P. Diop, 2011) © Photo - Saadi Hikimat: Domestic activities around the lake, OLAG, 2016